The State of the Digital Workplace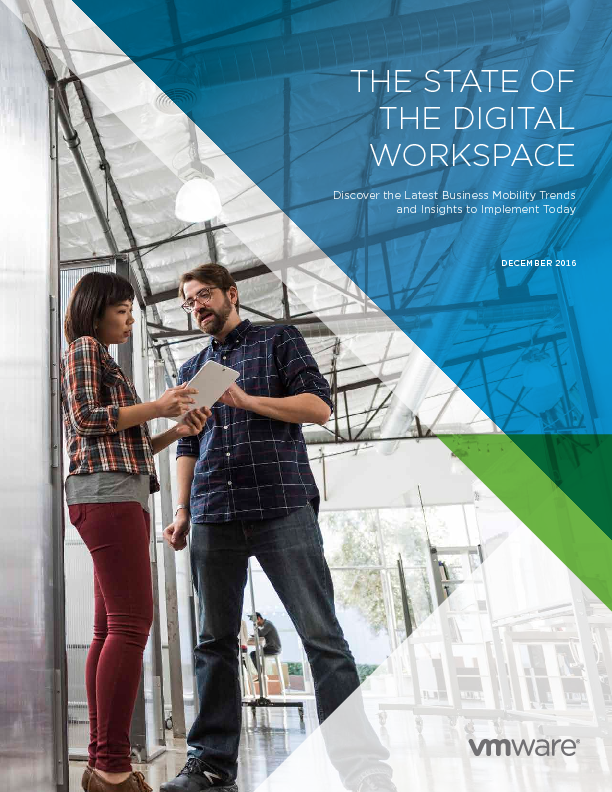 Client: VMware UK Limited
Format: Whitepaper
Size: 3.12 MB
Language: English
Date: 26.10.2017
Description
Digital workspace first-movers experience business, operational, and financial benefits while those that wait are falling behind, according to the VMware State of the Digital Workspace report Survey respondents say game-changing IT depends on organizations adopting a digital workspace that includes security and identity management as vital components. With realistic prospects of achieving triple-digit ROI, even surveyed businesses that cite obstacles to adoption may want to consider taking another look at business mobility initiatives
Organizations understand they must rethink traditional approaches to application delivery and management to stay relevant in an increasingly digital world. A consumer-simple, enterprise-secure digital workspace that unifies user, desktop, and mobile device management to deliver business outcomes can be the foundation for business mobility projects directly linked to process change and innovation.
For financial services firms, a secure digital workspace is an ideal way to modernize branch operations and mobilize customer engagement. Digital clinical workspaces unleash the potential of mobile devices in healthcare, providing the management, flexibility, and security for providers and patients to use the right device, at the right time, for the right task—from doctors updating charts to patients monitoring medications during a hospital stay. The secure digital workspace for retail further personalizes omnichannel shopping experiences, presenting offers through in-store kiosks and speeding checkout with endless aisle apps.
To understand more about mobility initiatives globally, VMware engaged with market research firm Management Insight in July 2016 to survey more than 1,200 IT decision makers, IT influencers, and business decision makers worldwide. The VMware State of the Digital Workspace report outlines key findings and highlights trends relevant to today's decision makers.