20 Mobile Tips for Holiday Marketing Success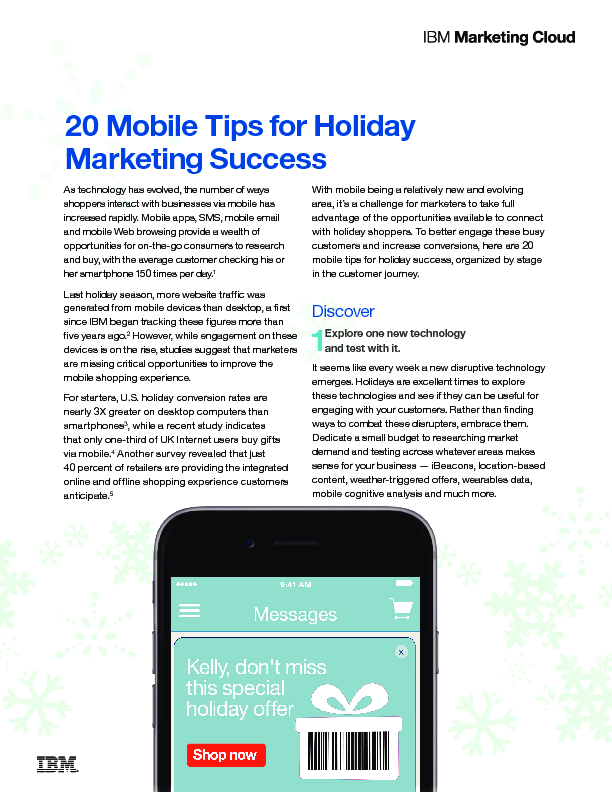 Client: IBM United Kingdom Limited
Format: Whitepaper
Size: 1.47 MB
Language: English
Date: 31.10.2016
Description
As technology has evolved, the number of ways shoppers interact with businesses via mobile has increased rapidly. Mobile apps, SMS, mobile email and mobile Web browsing provide a wealth of opportunities for on-the-go consumers to research and buy, with the average customer checking his or her smartphone 150 times per day.
Last holiday season, more website traffic was generated from mobile devices than desktop, a first since IBM began tracking these figures more than five years ago. However, while engagement on these devices is on the rise, studies suggest that marketers are missing critical opportunities to improve the mobile shopping experience. For starters, U.S. holiday conversion rates are nearly 3x greater on desktop computers than smartphones, while a recent study indicates that only one-third of UK Internet users buy gifts via mobile.
With mobile being a relatively new and evolving area, it's a challenge for marketers to take full advantage of the opportunities available to connect with holiday shoppers. To better engage these busy customers and increase conversions, here are 20 mobile tips for holiday success, organized by stage in the customer journey.